Full of hearts, but no heartbreak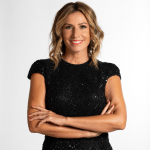 ERIKA MIKLÓSA
Hungarian opera singer, regular judge of the Hungarian Virtuosos Talent Show, guest star of the most famous opera houses in the world.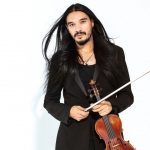 Nemanja Radulovic
A Serbian violinist and honorary doctor of the Serbian University of the Arts, his key mission to show how the boundaries of classical music can be broadened.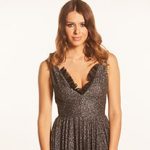 Gabriela Bohacova
The founder of the Czech art agency Artmuse, the organizer of several large-scale international classical music events, including concerts by Placido Domingo.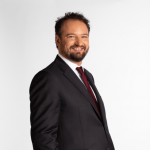 Peter Valentovic
A Slovak pianist and conductor who has already shown his exceptional talent in nearly 20 countries, including South Africa, where he was chief executive and resident conductor of the Cape Town Opera.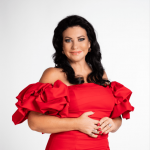 Alicja Wegorzewska
Polish opera singer, executive and artistic director of the Warsaw Chamber Opera, who has already performed in some of the most renowned opera houses in the world.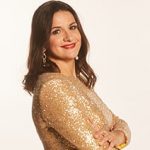 Silvana Grujic
Head of Music Department of Serbian public television, pianist, musicologist.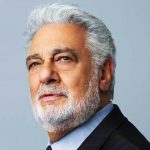 MAESTRO PLÁCIDO DOMINGO (opera singer, conductor)
Recognized as one of the finest and most influential singers in the history of opera, he is also a conductor. His repertoire encompasses more than 150 roles, with over 4,000 career performances. The Maestro has made over 100 recordings of complete operas, and compilations of arias and duets. He has been supporter, a share holder of Virtuosos Holding Ltd. and appeared as a guest star in Virtuosos TV show, inspiring young performers to reach for the stars.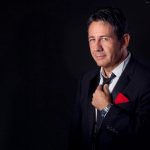 Plácido Domingo Jr.
Plácido Domingo Jr.,composer of the theme music of Virtusos V4+. He is a Mexican-Spanish singer, songwriter and record producer. He has written songs for artists like Michael Bolton, Riccardo Cocciante, Vanessa Williams, Sarah Brightman, José Carreras, Luciano Pavarotti, Leona Mitchell, Diana Ross, Alejandro Fernández, Tony Bennett, and Plácido Domingo, his father. He participated in the album Amore Infinito (released 2009) as executive producer, composer and singer. The album included verses by Pope John Paul II, performed by his father, which reached the top chart on Billboard Magazine's Top Classical Crossover Albums.
LANG LANG (pianist)
As a pianist, educator and philanthropist, he has fully embraced new technology and innovation, leading the way in bringing classical music into the 21st century. Lang Lang unites excellence and accessibility and builds bridges between Eastern and Western culture. He has performed with multiple pop artists, and enjoys the cross over between genres. Lang Lang appeared as a judge in the international pilot of Virtuosos.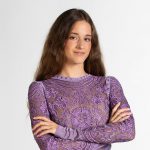 Coco König (actress)
The Hungarian-Austrian actress is known for Assassin's Creed (2016), The Carer (2016) and To the Boats (2019). Her enthusiasm for theatre was engrained in Coco by her mother Barbara, by the age of 7, when she was taken to see an Ibsen play for the first time. London is currently home base as she has completed her bachelor's degree in political science at NYU, and is currently working on her master's degree at LSE.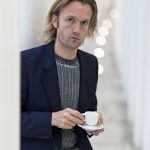 Gabriel Prokofiev (composer)
Russian-British composer, producer, DJ, and Artistic Director of the Nonclassical record label. He is the grandson of the composer Sergei Prokofiev. He studied composition at the University of Birmingham and the University of York and became a producer. Super judge of Virtuosos V4+ in the first semi-final.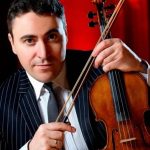 Maxim Vengerov (violinist)
A Russian-born Israeli violinist, violist, and conductor. Classic FM has called him "one of the greatest violinists in the world. Currently he is Ambassador and Visiting Professor at the Menuhin Music Academy in Switzerland (IMMA) and Polonsky Visiting Professor of Violin at the Royal College of Music, London. Aside from teaching, Vengerov has also served on numerous competition juries, in 2020, super judge of Virtuosos V4+ in the second semi-final.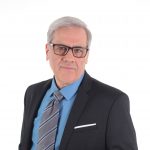 ANDRÁS BATTA (music historian)
Following his studies at the Academy of Music, he worked as a music journalist in Hungary and Austria. His Opera encyclopedia, spanning over 1000 pages was translated into 15 languages. After becoming a professor of the Budapest Academy of Music, he was elected to vice-rector in 2002 and rector in 2004. Under his management, the world famous Art Nouveau-style main building of the academy has been renovated and modernized, and a new building named after George Ligeti was built. He has been awarded with Erkel-, Prima- and Széchenyi Prize. Since 2014 he works as a judge and mentor on the classical music TV talent show Virtuosos. From 2015 he has also been responsible for the content development of the Hungarian House of Music.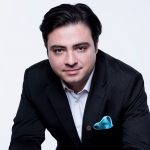 JÁNOS BALÁZS, pianist
Liszt- and Kossuth awarded Meritorious Artist János Balázs began to play the piano at the age of 4, winning his first competition when he was 8 and has been performing on prominent concert stages all over the world ever since. He founded the Cziffra Festival in 2016 to commemorate George Cziffra, his favourite pianist. In just a few years, this festival has become an important cultural brand. It is of special importance for him to introduce children to classical music, for which he personally runs educational programs. He's been one of the judges of Virtuosos talent show since 2017.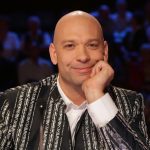 GERGELY KESSELYÁK, conductor
He has regularly conducted the leading symphony orchestras in Hungary for 25 years. He is the founder and music director the Miskolc National Theatre and has also been the founder-musical director of the Bartók+ International Opera Festival since 2001. Liszt Prize-awarded Meritorious Artist Gergely Kesselyák is the principal conductor of the Hungarian State Opera, also a stage director, with many notable premieres under his belt. He has been conducting over 100 different pieces throughout the world. He's a judge of Virtuosos since 2014.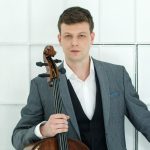 ISTVÁN VÁRDAI, cellist
The Liszt Prize-winner artist plays the legendary "Ex du Pré-Harrell" Stradivari built in 1673. He's been winning competitions since the age of 8. István has been honoured with several important international prizes: in 2014 he won the prestigious ARD Competition in Munich, in 2012 he received the prestigious Prix Montblanc awarded to the world's most promising young musician. He won the 63rd Geneva International Cello Competition in 2008, and he took the third prize in the Tchaikovsky Music Competition in Moscow in 2007. Since 2018 he's a professor at the Cello Department of Vienna Music Academy while performing on the world's most prestigious stages as the artist of Harriet Parrot, one of the world's leading artist agencies. He has released 7 albums. He is one of the artistic directors of the Kaposfest Chamber Music Festival and a judge of VIRTUOSOS Classical Music Talent Show since 2017.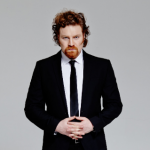 The Liszt prize-winner baritone was born in Transylvania. Ever since his childhood, he has won many singing competitions. He debuted on stage at the age of 18 at the Arad National Theatre, and he was 21 when he first performed in leading roles at the Hungarian State Opera. He performed in Covent Garden, Metropolitan Opera, Bayerische Staatsoper and many other important stages of the world. He also sang in Tokyo and Madrid, performed with Juan Diego Florez and Andrea Rost, as well as such world-famous conductors as Marco Armiliato, Ascher Fisch, Zubin Mehta, and Kent Nagano.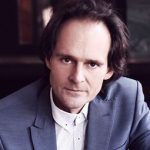 Gergely Boganyi started playing the piano at the age of four. He continued his studies at the Liszt Academy in Budapest, the Sibelius Academy in Helsinki and at Indiana University. Gergely Bogányi is one of the youngest pianists to have attained the Kossuth Prize, becoming one of the leading pianists of his generation and won several major international piano competitions. A relentless desire to innovate and perfect led him to create the revolutionary Bogányi piano. One of the biggest and most innovative grand piano redesigns in 150 years. He's been the mentor of Misi Boros and Soma Balázs-Piri pianists discovered in Virtuosos talent show and also made several apperanaces as a guest star and a guest judge in the show.
Inspiring young performers to reach the stars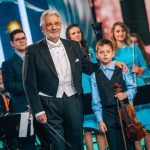 There are few classical stars that possess the gravitas that Maestro Domingo carries. Recognized as one of the finest and most influential singers in the history of opera, he is also a conductor and a major force as an opera administrator. His repertoire encompasses more than 150 roles, with over 4,000 career performances. The Maestro has made over 100 recordings of complete operas, and compilations of arias and duets. His crossover pieces have earned him 12 Grammy Awards, including three Latin Grammys, and won two Emmy Awards. The telecast of his performance of Tosca from the authentic settings in Rome was viewed by over one billion people across 117 countries. He has been supporter, a share holder of Virtuosos Holding Ltd. and appeared as a guest star in Virtuosos TV show, inspiring young performers to reach for the stars.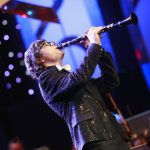 Dániel Ali Lugosi (clarinet)
Ali began learning the clarinet from the age of 10. He has won several international prizes, including the Grand Prize of Dittrich Clarinet Competition and the Osaka World Music Festival in Japan. At the age of 14 he was admitted to the class of exceptional talents at the Vienna Music Academy where he studied under Prof. Johann Hindler. In 2014, he won the 1st season of the Virtuosos TV-show. He has performed in major concert halls around the world, including the Miami Kravis Center, New York Lincoln Center, London Covent Garden, Budapest Palace of Arts, Pest Vigadó, the Music Academy and the Budapest Sports Arena. Regardless of the style of playing, either in an orchestra or as a soloist, Daniel always delivers his best performance and his concerts guarantee a top-notch classical music experience and entertainment. Watch his video!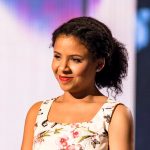 Karmen Stephany Boateng (piano)
Semi-finalist of VIRTUOSOS Season 3 started learning the piano at the age of 6. At her first competition, as the youngest participant at the Margit Varró Piano Competition, she won the first prize. From this moment she has been successfully performing at regional and international events and winning prizes, such as 1st prize at the Vienna Béla Bartók International Piano Competition, the XIV Vienna International Piano Competition and the 1st National Prize of Ferenczy György Piano Competition. She worked with Zoltán Kocsis, Gergely Bogányi, Jenő Jandó, and other renowned artists. Her dream is to travel a lot, to see the world, and to play for kids who can't afford to go to a concert or have not heard classical music yet.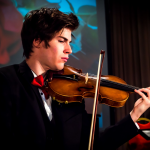 Zoltán Bácsy-Schwartz (violin)
Born in the Netherlands, he has been playing the violin since he was 4 years old. His mother is a music teacher, and his father is also a musician. At the age of 14, he was admitted to the "Special Talents" department of the Liszt Academy of Music in Budapest. After applying to the Virtuosos, he became concertmaster of the famous Bayreuth Youth Orchestra. He is a founding member of the Virtuosos Chamber Ensemble.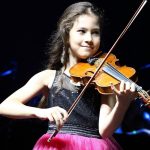 Mariam Abouzahra (violin)
Finalist and special price winner of Season 4 was born in 2008 into an Egyptian-Hungarian family of musicians, the parents are renowned concert pianists. Mariam has started learning to play the violin at the age of 3. Her teachers are Dora Schwartzberg and Junior Prima awarded Gábor Homoki. She has succeeded in competitions such as the Jugend Musiziert. She has performed in places such as Oman, with Maestro Placido Domingo in Denmark, in Shanghai, at the Berliner Philharmonie Concert Hall, at the Lincoln Center in New York and the Budapest Arena.
"It is astonishing that at the age of nine you already have the style and attitude that are typical of the greatest violinists." (János Balázs, about Mariam)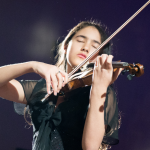 Amira Abouzahra (violin)
Age group winner of VIRTUOSOS Season 3 Amira was born in 2005 into an Egyptian-Hungarian family of musicians, their parents are renowned concert pianists. Amira has played the violin she was 4. Her teachers are Dora Schwartzberg and Gábor Homoki. She has succeeded in competitions such as the Carl Schroeder Violin Competition, the Jugend Musiziert and 1st Ilona Fehér International Violin Competition. They have performed with her sister in places such as Oman, Maestro Placido Domingo's Operalia Gala in Győr, in Shanghai, at the Berliner Philharmonie Concert Hall, at the Lincoln Center in New York, with Maestro Domingo in Denmark,  in Covent Garden, London and the Budapest Arena.
"There's something in you that touches the soul! You're wonderful!"
(Erika Miklósa, about Amira)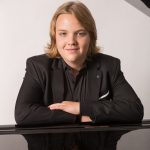 Soma Balázs-Piri (piano)
Balázs-Piri Soma has started to play piano at the age of 8. Since then he has won first prize at numerous international and national piano competitions. In 2018, he won his age group in "Virtuosos". In 2019, he was awarded by the Minister of Human Capacities in Hungary and became the Young Talent of Szeged. In 2019, he gave an all-night concert with the London Mozart Players chamber orchestra in London, and with a fellow pianist they gave a 2-hours concert at the Qatara Opera House in Doha, Qatar. He took part in master classes abroad and at home, where his teachers included Rita Kinka, Yuval Adamy, Marcus Schirmer – who invited Soma to the University of Music in Graz. His teacher is Emőke Sóti Szobonya, his mentor is Gergely Bogányi, Kossuth- and Liszt Ferenc awarded pianist.
"You've surprised us so much we can't find the words! You are very cool! "
(Erika Miklósa, about Soma)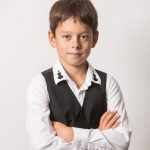 Teo Gertler (violin)
Special prize winner of VIRTUOSOS Season 4, Teo was born in Bratislava in 2008 into a Slovakian-Hungarian family. He first started playing the violin at the age of 4. He's been the student of Renata Klempar at the Ludovit Rajter Music School in Bratislava and Éva Szily Ácsné at the Aladár Tóth Music School in Budapest.
Winner of countless Hungarian and international prizes, including first prize at "Talents for Europe 2018" and the grand prize of Karol Lipinski and Henryk Wieniawski Young Violinists Competition, and also the 5th Zatureczky Violin Competition. He performed in Poland, Belgium, Russia, the Czech Republic, and the USA. His exceptional talent is much appreciated by music experts and fans of VIRTUOSOS as well.
"Your talent is simply breathtaking, you're perfect and still developing."
(János Balázs, pianist)
"We met Maestro Plácido Domingo and he asked how were you. He's watching the show and watches you, Teo." (András Batta, musicologist)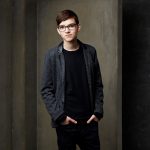 The Junior Prima awarded age group winner of the first season of VIRTUOSOS was born in 2003 in Pécs, Hungary. He's been spending all his free time playing the piano since he was five. His piano teacher is Ildikó Megyimóreczné Schmidt, and he's also being taught by the renowned concert pianist Gergely Bogányi.
Misi is the winner of several Hungarian and international piano competitions. He's been performing worldwide in major concert halls in Milan, Paris, Stockholm, Gothenburg, New York, Brussels, Zürich, Tokyo, Osaka, Islamabad, Beijing, Shanghai, at the Asia Music Festival in Shenzen, China. According to internationally acknowledged artists such as Plácido Domingo and Tamás Vásáry, Misi Boros's exceptional talent and charming personality will raise him among the top classical musicians.
"When we listen to Misi playing, it is clear for all, that one doesn't have to be an expert to understand classical music. The message he transmits is clear for everybody because a talent like him shows us the divine face of the universe." (Gergely Kesselyák, conductor)