Winners of Virtuosos V4+ in 2022: Roman Červinka (CZ), Patricija Avšič (SLO), Maciej Kasperek (PL), Dávid Roland Mózes (HU), Klára Valentovičová (SK)
Ten participants from five countries fought each other in the finals, who were evaluated by a jury: Maestro Plácido Domingo, opera singer Erika Miklósa, guitarist Pablo Sáinz Villegas, cellist HAUSER and producer Harvey Goldsmith, who were joined by bassist-composer Guy Pratt and conductor Eugene Kohn. Jury members from previous seasons returned to the show as mentors.
"A genius is a genius"
The the executive and creative producer of Virtuosos V4+Slovenia, Imre Szabó Stein gave an interview after the finals. "Virtuosos V4+ was exciting before, but for me lacked the necessary tension," he said.
Imre Szabó Stein added that the show should be exciting without compromising the fundamental differences and values that distinguish it from all other international talent shows. It was important to ensure that no child's enthusiasm was crushed and that no one was put in a humiliating or inappropriate position.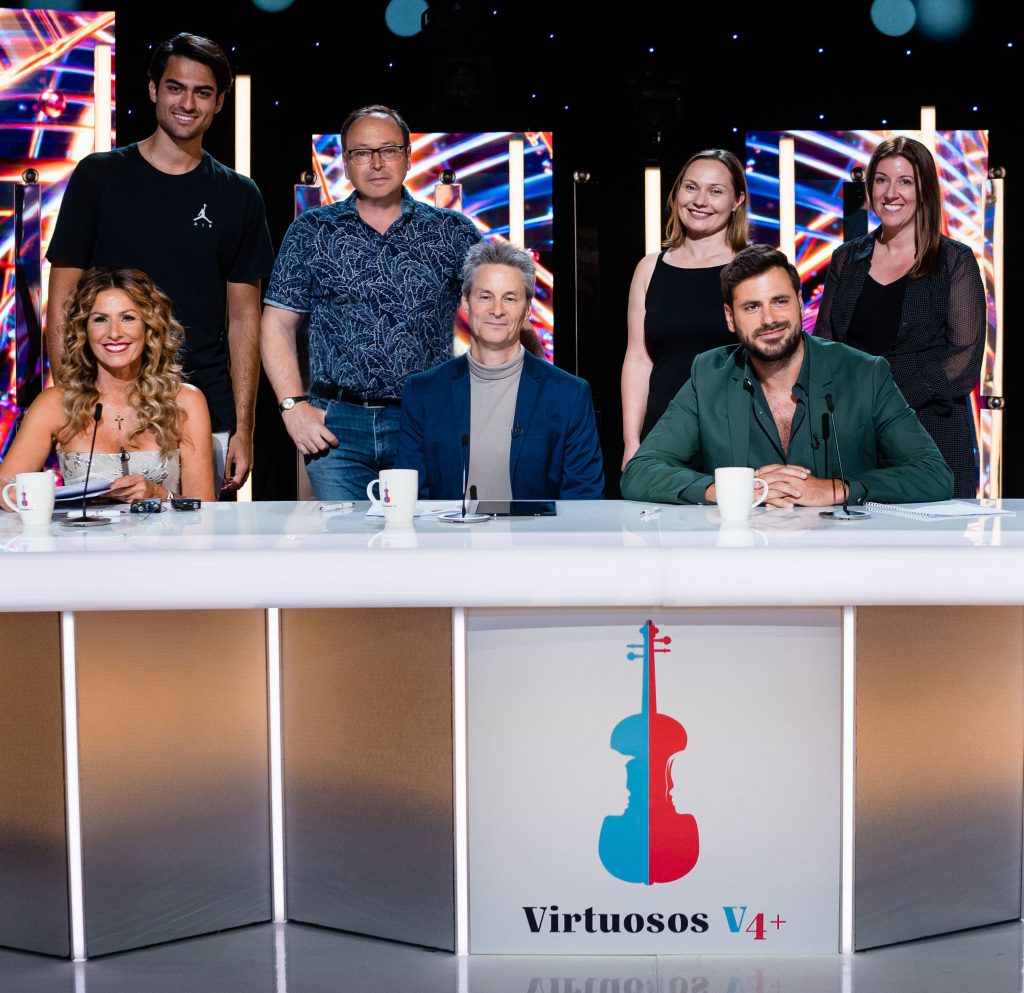 "A genius is a genius everywhere in the world, but only a few genius is born worldwide. So we had to make the audience feel when something really big happens on stage, and I managed to convince producer Mariann Peller, the show's creator, of that, and it was also very constructive to think about innovations with the Show&Game's chief producer György Koós, creative producer Ádám Németh and chief producer Virág Váczi," he added.
Stein Szabó believes that the previous two seasons of the international talent show were a bit dominated by a mixture of excitement and softening. The show's producers have therefore asked the jury for real critical comments and professional discussions.
"We have introduced a 'duel' to measure each country's contestants. The aim was for the judges to bring in some real constructive criticism, adding drama, but only to shed a tear if they saw a truly brilliant or near-brilliant performance."
A new dimension opened
In another innovation, this time the contestants were able to decide for themselves who would receive the Best of Talent award. They could vote for any finalist except themselves and the other finalist from their own country. According to Stein, Mariann was very cool to accept this idea.
It opened up a whole new and democratic parallel dimension, where the children's will and ideas were not imposed by the adult world, which is fine because they are young artists," she said. He noted that a lot has also been done to improve the visual world of the show and that this season could be a mainstay of prime time anywhere in the world. He added: "The VIRTUOSOS team has done an amazing job, but this work, which spans almost a whole year, is another story."