As part of the Krumlov Festival, the finalists of the competition for young talents, Virtuosos Visegrad 4+, performed on July 28th as they do every year, accompanied by a renowned artist in the role of supporter. It was a beautiful evening, diverse and full of positive energy.
The Virtuosos V4+ is a classical music talent competition where talent and interpretive skills are recognized, supported and rewarded. The competition's founders originally Hungarian, but now international, complement their "mission and vision" by "presenting the beauty of classical music to the widest possible audience through the television show. The winners will be able to perform in the most famous concert halls in the world and receive a scholarship. There is always one winner from each country.
The director of the Krumlov Festival, Gabriela Rachidi, serves on the competition jury and the competition winners perform at the festival itself, which is a celebration of their success. Not only happy parents attend the concert, but a well-known personality who supports them, a master of their field. This year it was violin virtuoso Vadim Gluzman, who was involved in awarding a scholarship to one of the finalists, Slovenian violinist Patricija Avšič, through the Arkady Fomin Scholarship Fund.
It was a wonderful evening of positive energy supporting young people. The performers were all great; it would be unfair to try to judge them individually given the circumstances. The concert began with Hungarian pianist Dávid Roland Mózes, a teenager in his mid-teens (15), playing two movements from Haydn's Piano Concerto No. 11 in D major. He played at a professional level, as did the other performers. They were all accompanied by the South Bohemian Philharmonic Orchestra under the direction of Peter Valentovič. The orchestra played with the performers, rather than just accompanying them.
The program was full of logical colorfulness of Visegrád national music, either directly or connotatively. Haydn's second movement was labeled "Rondo all'Ungarese." and indicated an authentic Bosnian-Dalmatian folk round dance that Haydn used as a theme in the rondo form. The concert was infused with classical music in a contemporary style (with rhythmic work and other finesse reminiscent of inspirations from Bohuslav Martinů). The concert celebrated the social and national origins of the performers, showcasing music from each of the four Visegrád countries.
And now briefly to individual performances. It is difficult for me to evaluate them, as explained earlier, because everyone must have been nervous and it must have been challenging for many (although talent is talent and some excel effortlessly). In summary: everyone was great.
The concert was opened by Hungarian pianist, teenager in his mid-teens (15), Dávid Roland Mózes (excluding professional festival moderator Jiří Vejvoda). It is worth mentioning that the South Bohemian Philharmonic Orchestra led by Peter Valentovič accompanied all performers with quality, supporting all performers in all pieces. The young artist certainly has a lot ahead in color and dynamics, however, he played at a professional level (as did everyone). He played two movements from Haydn's Piano Concerto No. 11 in D major. The beautiful second movement was played with sophisticated phrasing (which will undoubtedly mature even more). His tone production on the festival's Steinway was also at a good level and will surely reach greater heights in the future. He managed the fast movement, with technically demanding and brisk runs and ornaments, with ease.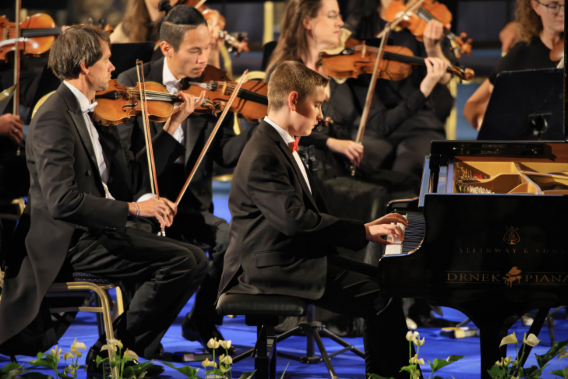 Next was a little revelation: in interpretation, instrument, and a very interesting and skillfully (virtuosically) written composition of the first flutist of the National Theater Orchestra and current composer Jaroslav Pelikán (who was present and according to his "body language" during the thank-you to the performers was evidently and rightly very satisfied with the performance). It was a Concerto for Recorder, Strings, and Harpsichord. The opening fast movement sat even more listeners into their chairs. The outstanding performance came from the Slovak competitor Klára Valentovičová (11). For example, her excellent command of rhythm deserves mentioning. The second movement (let's say Moderato), was perfectly mastered, with ears overflowing with specific intonation of her instrument. The last third movement seemed to rhythmically play with the most famous Beethoven "fate motif," interspersed with rapid figures that Klára also performed with ease.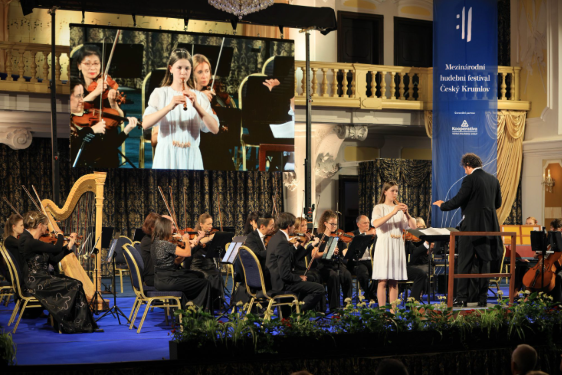 Then came a quite well-known and beautiful composition by Pablo de Sarasate, Gypsy Melodies. The Spanish composer's work reminds me of Brahms's Hungarian Dances, which were, however, composed a year after Sarasate's work (it doesn't make sense to blur that the most famous Brahms's Hungarian Dance No. 5 is not "Brahms's" but of Hungarian composer Béla Kéler to every note; we can only pay tribute to Hungarian music – as we do here to the originally Hungarian competition). Sarasate was a child prodigy.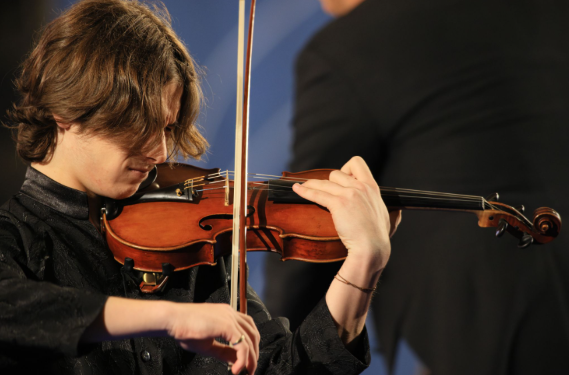 The protagonist with the violin, Roman Červinka, also seemed to resemble him in his performance (with the outfit à la "Romale čhavale"). Apart from no longer being a child, Roman is sixteen years old and his magnificent performance was one of the highlights of the evening (which we will get to briefly). Simplifying the one-movement composition, the slow and fast parts, the first was characterized by perfect intonation (which is evidently one of Roman's advantages and goes hand in hand with the beautiful tone that he produces from his violin). Sarasate's beautiful melody was characterized by sophisticated interpretative ease and technically challenging passages. The fast part was once again perfectly technically and intonationally mastered, including rhythmically challenging passages.
The next finalist, after applause and a break, was the Polish Maciej Kasperek, who played a similarly Brahmsian and very nice flute Ballad and Orchestra, op. 288 by Leipzig composer, conductor, and mentor Leoš Janáček, C. H. C. Reinecke. The nineteen-year-old flutist mastered the part beautifully and with professional bravado.
The last finalist and the virtual peak of the concert was the performance of the supported Slovenian violinist Patricija Avšič (who, besides Roman Červinka and the breathtaking combination of a young flutist and a virtuosic piece by J. Pelikán, according to my opinion, belonged to the most captivating). Her playing was "connected," as spiritualists say. She played the second and third movements of the Violin Concerto No. 1 in F-sharp minor, op. 14 by the famous Polish violin virtuoso and romantic composer Henryk Wieniawski (who composed his first concert at the age of eighteen). The sound of her violin was filled with a beautiful, poignant tone in the slow movement. The fast movement was interestingly performed by the thirteen-year-old artist with perfect execution. Her overall musical appearance was impressive, including her enthusiastic and focused expression, especially in the difficult, final part at a fast tempo.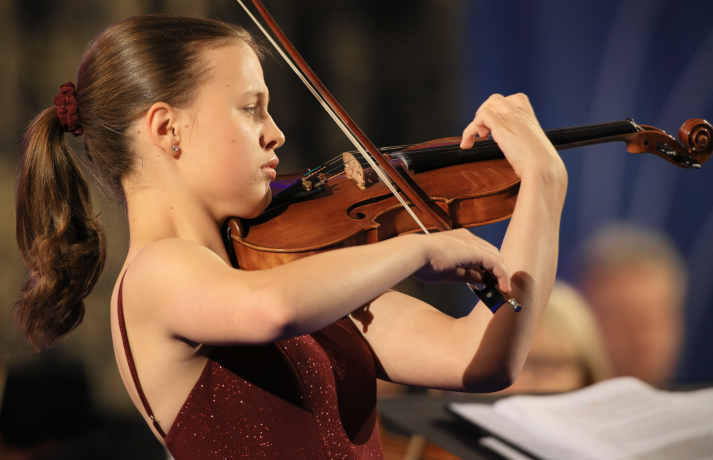 After a short introduction of the main star, Maestro Gluzman, by the moderator Jiří Vejvoda, the hall resounded with the melody from Gluck's famous Orpheus and Eurydice, which reminded me of Vadim Gluzman's words from the aforementioned Opera PLUS interview: truly, his "Stradivarius" has a sound that is strong in all ranges! I also thought: it sounds like several violins, not just one. All the violinists of the evening must have envied his instrument or perhaps seen another goal to dream of. Hats off! The master performs concerts every three days in a different part of the world, with different compositions, and yet managed many instrumental expressions and techniques with professional insight. Occasionally, it seemed like there were errors in intonation in heavy parts (especially in challenging pizzicatos with the left hand). However, an experienced master distinguishes himself and certainly was an inspiration to young artists. And that's good. Just like it is good that the whole evening was imbued with the ethos of a good intention.
It is noteworthy how the evening's program turn out harmoniously diverse. The program was full of logical color of Visegrád national music, either directly or connotatively. One of Haydn's movements was entitled "Rondo all'Ungarese" (i.e. a repeating motif based on the program of the concert "on an authentic Bosnian-Dalmatian folkwheel dance," which Haydn used as an opening theme in rondo form). The concert also had a classical nature, but it was original and modern music (working with rhythm and other finesse a bit reminded me of inspiration from Bohuslav Martinů). In this context, let us recall the brilliant orchestral concerts of the 20th century, precisely from Visegrád composers, Lutosławski and Bartók. Reinecke and Sarasate's pieces also evoke the Brahms-Dvorak tradition. Thus, the color also matched the pieces played for Maestro Gluzman at the end. Gluck's Dance of the Blessed Spirits (which showed that less is more, or that mastery lies in playing a simpler piece, with emphasis on quality tone, cantabile, etc.). However, if any of the compositions of the evening slightly stood out, it was this one. The final striking composition Tzigane seemed to contain all the expressive and aesthetic colors of the evening: the composition of the French composer, with Gypsy (or Hungarian) inspiration, played as a model, which was once helped and now helps, i.e., Vadim Gluzman, of Ukrainian origin, trained in Riga, Lithuania, who lives alternately in cosmopolitan Israel and the United States.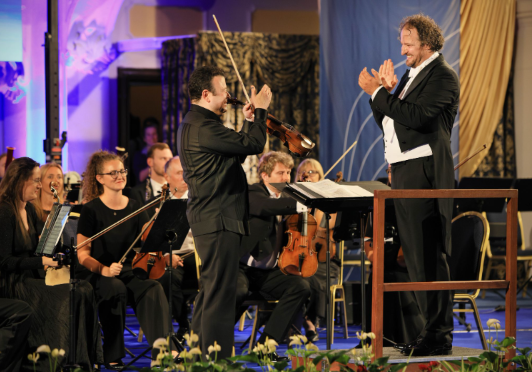 It was also remarkable that the evening was successful in terms of consonant diversity. The program was full of logical color of Visegrád national music, either directly or connotatively.
Organizer: Festival Krumlov
Date and time: July 28, 2023, 8:00 p.m.
Venue: Zámecká jízdárna
Program
J. Haydn: Piano Concerto No. 11 in D Major, Hob. XVIII/11, 2nd and 3rd Movement
J. Pelikán: Concerto for Recorder, Strings, and Harpsichord
P. de Sarasate: Gypsy Melodies, op. 20
C. H. C. Reinecke: Flute Ballad and Orchestra, op. 288
H. Wieniawski: Violin Concerto No. 1 in F-sharp Minor, 2nd and 3rd Movement
Ch. W. Gluck: Orpheus and Eurydice – Dance of the Blessed Spirits (arr. for violin and strings)
M. Ravel: Tzigane
Artists
Vadim Gluzman – violin
Roman Červinka (CZ) – violin
Klára Valentovičová (SK) – recorder
Dávid Roland Mózes (HU) – piano
Patricija Avšič (SLO) – violin
Maciej Kasperek (PL) – flute
South Bohemian Philharmonic Orchestra
Peter Valentovič – conductor.
The article is a translation from the original, Czech article, issued on operaplus.cz.